This bulb has no markings at all and as it has a totally opaque white glass over clear glass bulb the coiled tungsten filaments cannot be seen easily. There is a small hole in the white glass that allows you to look inside with a strong eyeglass. The filaments are arranged in two circles, one above the other, with around ten supports each - sorry cannot be more exact. The base is standard BC. The bulb is about 90mm long. Two silk cords are tied to loops at the end of a chain that connects to the switch. One cord is pink with a dark wooden knob and the other white silk with a light wooden knob. It probably dates between 1915 and 1925, despite being pipless.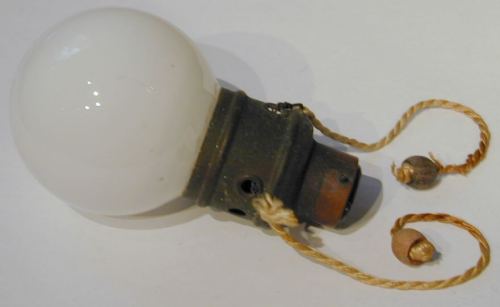 Until 1925 when internal frosting was developed was introduced, all diffusion had to be added to the finished bulb - this example has been made for a decorative situation, possibly a railway carriage, where shades would not be used and dimming was desirable. I am fairly certain it has been coated in white glass and the pip, if it had one on top, polished of prior to adding the white glass. A lot of work and thus an expensive bulb for its time.
Nonetheless, this is a rare beast. It seems likely that this a dual filament bulb with a dim and bright setting. Most of the earliest switched bulbs offered this feature - later dual filament lamps with less convenient switching were designed for economy and had two identically rated filaments. Lightbulbs were an expensive luxury in those days and anything to reduce the cost made an interesting gimmick.